FETHIYE TO OLYMPOS CABIN CHARTERS
Fethiye To Olympos Cabin Charters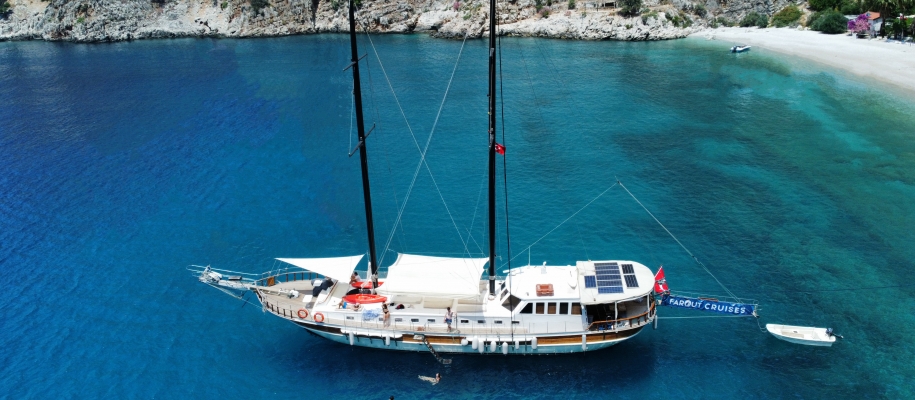 Overview
Itinerary
Gallery
Details
Enquire
Departing Days :

Tuesday

Thursday

Saturday




Length :

4 days 3 nights

Yacht Class :

Classic

Departs from :

Fethiye

Meals :

Full board standard menu

Wi-Fi :

Included

Shared cabins:

Available

Location :

Turkey

Places Visited :
The Fethiye to Olympos four-day, three-night blue cruise is the most popular voyage on the Turkish Mediterranean.

Traveling on a traditional Turkish wooden gulet, this cruise has stops that suit all tastes. From ancient cities and ruins to beautiful scenery and crystal clear waters of south Turkey for swimming.

Setting sail from Fethiye on your first day, you will head to Butterfly Valley - looming mountains, rich forest, and stunning blue water will set the scene for the rest of your journey. You will also visit Europe's most photographed beach, Oludeniz, and the resting place of a jolly, gift-bearing Santa Claus at St Nicholas Island. Kas and the Kekova region can be explored in-depth, and your captain will steer you over the famous Sunken City of Kekova, destroyed after an earthquake. Plus, throughout your cruise, you and the other guests will be fond of stunning hidden bays and beaches while enjoying plenty of Turkish dishes and hospitality.

This cruise has several departing days during the week, from the middle of April until the end of October.
Fethiye to Olympos Cabin charters rates x
Travel Period
EUR
TRY
USD
AUD
GBP

1 April 2023

-

9 June 2023

€ 500
₺ 15630
$ 540
AUD 810
£ 430

10 June 2023

-

30 June 2023

€ 545
₺ 17037
$ 589
AUD 883
£ 469

1 July 2023

-

29 September 2023

€ 645
₺ 20163
$ 697
AUD 1045
£ 555

30 September 2023

-

31 October 2023

€ 545
₺ 17037
$ 589
AUD 883
£ 469
Fethiye to Olympos Cabin charters hot deals
| | | | | | |
| --- | --- | --- | --- | --- | --- |
| Dates Available | Pax 1 - 5 | Pax 6 - 1 | Pax 11 - 16 | Pax 17 + | Expires |
| 9 December 2023 - 16 December 2023 | 35% | 35% | 35% | 35% | 16 December 2023 |
Details
Please find more details and information on your cabin charter below.

YACHT INFORMATION
- A classic Turkish wooden gulet is provided for this cabin charter.
- Yachts are determined on your arrival. Gulet cannot be predetermined or guaranteed at the time of booking.
- All our yachts have yacht insurance.
- We advise all travelers to take out their travel insurance.

CRUISE TYPES
- Mix Age Travellers - 3/4/7 day options
- Mix Age Traveller with A/C - 3/4/7 day options
- 18-39's Young Adults with A/C - 4/7 day options (only Saturday departures)

A/C or NON-A/C
- We operate Gulets A/C or non-A/C; there is a price difference for A/C gulets.
- A/C Gulet daily usage limit is 4-6 hours.
- You can sleep under the stars on decks of non-A/C gulets. In Gulet cruises, most people sleep on deck, and few sleep in cabins.

INCLUSIONS
- Drinking water is included on this cruise.
- Gullets are included WIFI, but we can't guarantee reception in some places.
- Meals are included for the duration of your cruise. This includes breakfast, lunch, dinner, and 5 o'clock tea.
- Port and marina fees, taxes, and fuel are all included in your cabin charter package price.
- Linen and bath towels are provided on this cabin charter.

EXCLUSIONS
- On this charter, drinks are not provided in your cabin charter package, and you cannot bring your drinks. All drinks are sold on board. A bar tab is set up for the week. All bar tabs are paid after your cruise by cash only.
- Beach towel isn't provided on this cabin charter. Please note that you must bring along your beach towel, or you can buy a lungi from the ports.
- Entrance fees and optional activities are not included in the cabin charter package price(Paragliding, Diving, Water sports, Land transfers, etc.)

ACCOMMODATION
- All cabins have private bathrooms & and a shower.
- The allocation of cabins is done on-site. All gulets and cabin layouts are different, and cabins are not predetermined.
- On these cruises, you may be roomed in a twin, double, triple, or quad cabin, depending on your group breakdown. If you are a couple, please notify us beforehand & we will arrange a double private cabin for couples. Individuals are all shared in a twin or triple room mixed gender (we will always try to match same-sex first).
- Single supplement cabins are available at an extra cost for individual travelers who do not want to be assigned with another passenger. All cabins have private bathrooms with toilets and show restrictions
- Children of 6 and under are not allowed on this cabin cruise. Ages 7 years and over are welcome. There is no children's discount available. Kids will share their parent/guardian's cabin.

Bringing your drinks is not allowed on this cruise.
- Your cabin charter is a non-guided tour. No local guide on board provides information on the sites and locations.
- All efforts will be made to follow this itinerary; however, in cases of poor weather and sea conditions, this schedule may change. This could include altered daily plans and overnight stops. In these situations, all efforts will be made to consult customers on alternative options, and no money will be refunded.

Pickups and Meeting Point
Departing from Fethiye: There is no Hotel pick-up available. You will receive the meeting point details on your e-ticket.
Departing from Kas: There is no Hotel pick-up available. You will receive the meeting point details on your e-ticket.
Departing from Olympos: Pick-up is available from Olympos Hotels. Pick-up is not provided from Cirali or Antalya.
Departing from Demre: The meeting is at noon at the Demre Bus station.

Transfers are available for an additional cost, don't hesitate to contact us if you want to book transfers.
DAY 1
Fethiye to St Nicholas Island
Meet by Fethiye Harbour for check-in at 10:00 am, and here you will be given information before boarding the gulet, where you will be given a brief about your cruise. We will depart Fethiye harbor and cruise to Butterfly Valley for swimming, lunch, and an optional hike up to the waterfall. Butterfly Valley is known to be the home to over 136 different types of butterflies and moths; however, in the summer months difficult to spot. Afterward, we will visit Oludeniz Beach, Europe's most photographed beach and one of the best sites in the world to paraglide

Optional Activity: Paragliding
Blue Lagoon If you fancy gliding off the cliff tops and taking in the spectacular views of the Blue Lagoon and Oludeniz, We recommend pre-booking this activity online for special rates or with our friendly office crew. However, if you decide while here that this is the activity for you, please let your captain know. Tonight we will anchor at St. Nicholas Island; we arrive in time to walk up through the island's ruins and witness the amazing sunset. (L, D)
DAY 3
Kas to Gokkaya Bay
Today after breakfast, we will cruise to the area of Kekova. First, on the list, we will discover the Sunken City, an ancient town dating back 2000 years to the Lycian period and destroyed by an earthquake. We will cruise over this protected World Heritage site. However, no swimming, diving, or snorkeling is allowed in this area. We will then cross to Simena Castle, where you can walk to the top and witness a magical view over the bay, taking in the underwater Lycian Tombs and the Sunken City.

Overnight in Gokkaya Bay. (B, L, D)
DAY 4
Gokkaya Bay to Olympos
On your last day, you can enjoy a lazy start, resting off any sore heads from partying until the wee hours. After breakfast, you will head to Ucagiz Village Harbour at 10:30/11:00 am to disembark the boat. Lunch is not included on the last day. There will then be a free transfer to the treehouse of your choice in Olympos (a 2-hour drive). Or, if you're planning to travel to other locations, you'll be dropped off at Demre bus station (a 10-minute drive), where you can catch a local bus. Buses to Antalya depart every 30 minutes, buses to Kas or Fethiye depart every hour, and no need to (can't) pre-book these buses. (B)
Enquire
Please don't hesitate to email us for further assistance.