ST NICHOLAS ISLAND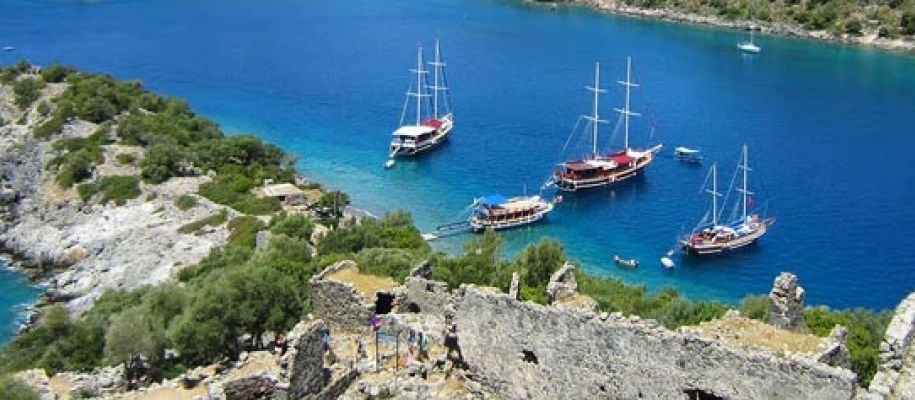 About St Nicholas Island
St Nicholas Island (or Gemiler Island) is located off the coast 20km northeast of Fethiye. The island is famous not only for its beauty but for being the supposed resting place of a certain red-cheeked, jolly, gift-bearing Santa Claus, or Saint Nicholas as he was originally known.

It is believed that in 326A.D St Nicholas and a few followers fled to the uninhabited island to escape Roman persecution. St Nicholas was a Christian bishop born in Myra, who provided for the poor and the sick. He had a reputation for secret 'gift-giving', where he would place coins in peoples shoes if they were left out for him, which is the inspiration for the modern-day "Santa Claus" (translated from the Dutch word Sinterklaas, which is derived from various translations of Saint Nikolaos).

It was on this island that St Nicholas is said to have died and was buried at the highest point of the island in an elaborate tomb. The tomb was discovered accidentally by a team of academics in the early 1990's who were searching for traces of environmental damage on the island. Nowadays the bones of St Nicholas can be found in the Italian city of Bari where they were taken to Myra (a town 40km northeast) around 650AD. This was due to the island being abandoned after being threatened by an Arab fleet. In 1087 the bones of St Nicholas were again relocated to Bari, which becomes his final resting place.

St Nicholas Island is relatively mysterious, with the ruins of Byzantine Churches and structures dating back to the 4th to 7th century. For a small fee, you can explore the island, its churches and structures via the rocky path. The remains of dwellings, religious buildings, stone tombs and ceremonial passageways can also be found on the island.

Things to do on St Nicholas Island
The island is uninhabited and relatively small (only 1km long and 400m wide), so you can explore most of the island in about an hour. Visit the four churches that were built between the 4th and 6th centuries AD along with a trail more than 300 metres long.

Relax on or off the boat as the ruins can be seen from the sea and swim in the warm crystal clear waters. St Nicholas Island is also a fantastic place to sit atop and witness one of the most magical sunsets in Turkey.

There are many boats (day-trippers, private boats and gullet cruises) which dock in along the shores of St Nicholas Island, so the shoreline is usually a flurry of activity. For visitors, there are many watersports available, including banana boat rides, water skiing and parasailing.

While in St Nicholas Island it is definitely worthwhile to try some Turkish gozleme. A couple of locals cruise their small boats to the day boats and gulets and make up fresh gozleme out on the water. Guests can try anything from chocolate spread on the crepe style pancake to spinach and cheese.

Around St Nicholas Island
There are many other interesting places to see around St Nicholas Island, including Oludeniz, Butterfly Valley, and Kayakoy. Most boat trips departing from Fethiye to the Kekova region will make a stop or even have their overnight stay in St Nicholas Island.