OLUDENIZ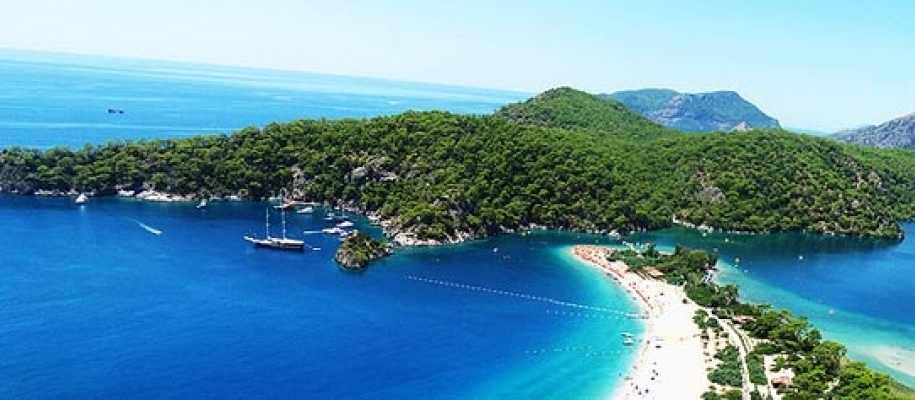 About Oludeniz
Oludeniz (eu-leu-den-eez) is a sheltered 3km beach and lagoon located about 15km from Fethiye. The scene as you come down from the pine-clad hills is absolutely gorgeous: in the distance the open sea, in the foreground a long spit of beach.

Regularly used on Turkish travel posters and postcards, it's famous for its shades of sapphire and turquoise coloured water or "Blue Lagoon". Hidden from the sea, the lagoon is a UNESCO world heritage area, recognised for its outstanding natural beauty. Due to its National Park status, there is a small entrance fee to enter the lagoon, however, it's definitely worth every penny.

The beach stretches around the Cape, offering another spectacular place to relax. The area has been laid out with paths, showers, toilets and lots of cute little beach-facing cafes and bars which line the promenade.

Oludeniz was formerly a secluded retreat for campers and backpackers, however, over the past 20 years, the area has undergone an incredible transformation. Although the campsites have disappeared in place of luxury hotels, resort and beach bars, the area has not lost its charm and is popular with holidaymakers of all ages.

Oludeniz is also located near the beginning of the Lycian Way – Turkey's first long-distance walk which offers stunning coastal scenery and plays host to hikers from all over the world.

This place has something for everyone, from the relaxed sun-bather to the enthusiastic activities lover, and you're sure to love your time in this gorgeous tourist hot-spot.

Things to do in Oludeniz
Oludeniz boasts one of the world's best tandem paragliding experiences, offering breathtaking views of the lagoon and surrounding mountains. There are several agencies offering tandem paragliding flights which launch from Baba Dag mountain. The launch point is known as one of the worlds highest commercial take-off points at a height of 6550ft. The descent can take about 45 minutes, and on your way to back to earth, you can experience 360-degree turns and wing-overs before landing gently on the beach below. This is truly an experience not to be missed! If you prefer something a little closer to land, there is parasailing also available for about a third of the price of paragliding.

You can also rent water sports equipment on the main beach such as canoes, kayaks or paddleboats, or simply swim in the calm warm waters. If you would like to do some hiking, there's an excellent hike from Kaya Koy, which goes over the back of the Blue lagoon and into Oludeniz.

For those who simply want to relax, you can rent loungers on the beach. There are a number of Day Spa's and Turkish Baths that you can visit at a reasonable price– we recommend the Sanctuary Day Spa for excellent spa packages.

The Carsi Caddesi is Oludeniz' main shopping street, where you can buy souvenirs, beachwear and more. Be sure to catch the stunning sunset at one of the beach bars (see below for recommendations)

Where to eat in Oludeniz
The main beach and surroundings are lined with fantastic eating spots. For authentic Turkish food, we recommend Inci Restaurant where you can try some of the tasty mezzes and mains with a great selection of wines and local beer. Another popular choice is Selcuks Ottoman Restaurant.

Zucca Italiano Ristorante is also a great choice for pizza, pastas, steaks and more.
For a few relaxed drinks by the beach try the Buzz Bar with its great atmosphere, music and stunning views.
The Hangout is also a top choice for kicking back to watch the sunset and the paragliders above while enjoying a cocktail or two.

Nearby areas to explore
There are a number of nearby areas that you might like to explore around Oludeniz, including Butterfly Valley, St Nicolas Island, and Gocek.