SIMENA CASTLE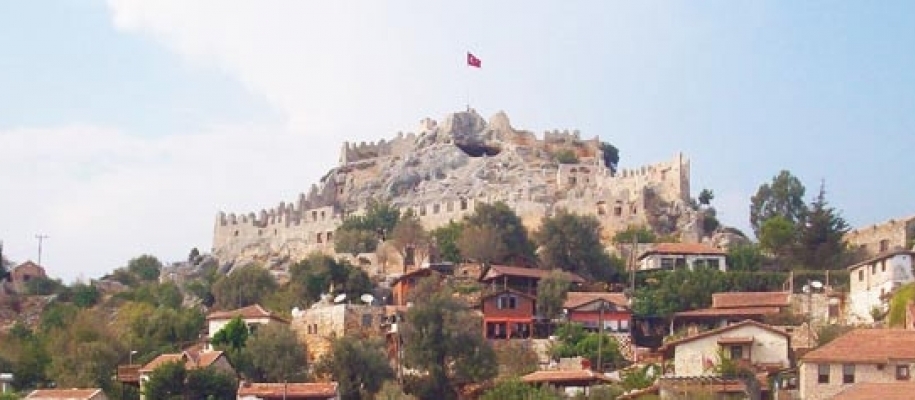 About Simena Castle
The history of the ancient Lycian city of Simena goes back to the fourth century. Its earlier fortifications were the foundation rocks for this crusader castle, built by the Knights of Rhodes. Simena Castle sits on a hill overseeing the top of the fishing village of Kekova in the Antalya province. Its remains date back as far as the Roman and Byzantine era. It is one of the most impressive historical places in Turkey – mostly due to the fact it is an environmentally protected site, its purity visible by the blue skies, white sand and abundance of archaeological ruins. Originally built to fend off pirates that might raid Kekova, the castle has a small natural theatre, which can seat around 300 people: one of the smallest theatres among Lycian cities. In the walls of the inner keep lay a few blocks of the original ancient temple. This popular yachting destination is set the partially sunken Lycian necropolis. One can climb up the medieval castle, once ashore, and take in the splendorous views of the Mediterranean and of the island itself. You can probably imagine what treasures this town has if pirates were so attracted to come and attempt to plunder. On the west side of the theatre there are rock tombs; just above them is a Roman wall, which gives you a snapshot of three unique eras.

Things to do in Simena Castle
At the base of the harbour, there are many restaurants and cafés where one can refresh themselves with some locally made ice cream or mint tea. As for the restaurants, they all offer the freshest catch of the day, along with other traditional Turkish dishes. Those who have already explored the Castle and wish to see more of the village may set off to walk amidst the winding cobbled paths past more relics and locals selling their handcrafted souvenirs. Head up the steep hill and observe a glorious, panoramic view of the bay. By the shore, there are a few interest points: a submerged sarcophagus, the occasional Loggerhead turtles taking a swim in the bay and also the ruins of public baths, whose legible inscription reads "A gift to the emperor Titus made by the people and council of Aperlai as well as by the other cities of the Lycian confederation that they were a member of."If you follow along the coast via the marked Lycian Way, it leads up to it's rarely visited, twin.

How to get to Simena Castle
Unfortunately, there is no direct land access to Simena Castle. The best way is to join a cruise within the Kekova region as you pass by the Sunken City. Another option is to take the Kas-Finike Highway towards Ucagiz Village and from there take any of the daily boat trips or hire a boat transfer.