MARMARIS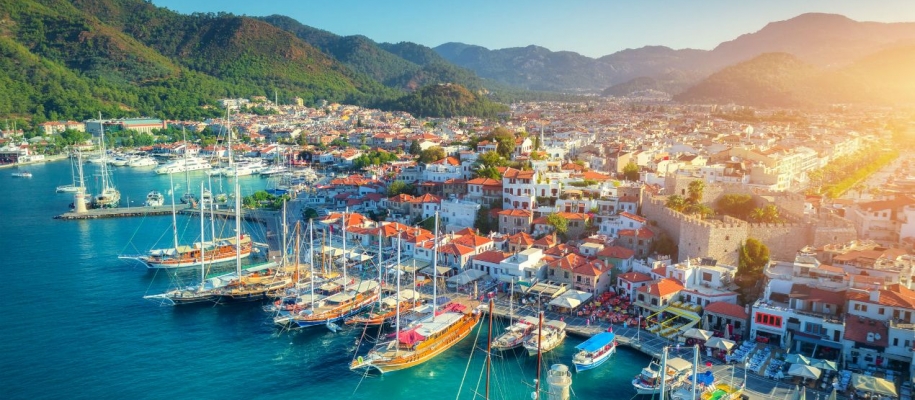 About Marmaris
Marmaris, once a sleepy fishing town has been transformed into Turkey's largest yacht marina. Travelers swarm to this area to join Marmaris cruises to Greece, down to Fethiye, and to the nearby bays. Situated between a stunning natural harbor and towering pine-clad mountains, this picturesque resort location is a must-see in Turkey. The town offers the best of old and new with its family-fun aqua park or the notable Marmaris castle (now Marmaris Museum). Eminent for its nightlife, arguably the best on the southern coast, Marmaris is home to a long list of bars and clubs that will have you partying till all hours of the morning.

There are numerous places where you can do short courses to learn to dive at a low cost depending on the season or perhaps try a relaxing Turkish bath and massage at Armutalan Haman. Or simply enjoy the excellent food and great wine that line the marina in various restaurants and cafes.

How to Get to Marmaris
Dalaman is the nearest airport to Marmaris. It is 100 km away from Marmaris city center and takes approximately 1 hour and 15 minutes. The best way to get to Marmaris from the airport is via the Havas shuttle bus, private transfer, or by taxi. Marmaris is also very accessible from Greece, travellers can jump on an hour ferry from Rhodes to Marmaris marina.

Where to Eat In Marmaris
As a result of mass tourism in Marmaris the restaurant, café and bar offering has grown considerably. The marina is lined with beautiful restaurants overlooking the water and the old town is dotted with quirky cafes hidden around the walls of the castle.

One of the most notable restaurants to mention in Marmaris is La Fortune Restaurant located in Netsel marina. Their doner kebab dish is famous throughout Turkey and the restaurant has one of the most scenic views of the whole town.

Dede Restaurant is lovely and ideal for larger groups who want to eat alfresco. Also, located on the marina their delicious specialties' include a fish pie, seabass roll, and a Mediterranean Seafood casserole.

For a more budget-friendly restaurant, it is worth trying Cadde Grill & Bar. It is great value for money with large meals and a variety of dishes on offer.
Wanting to go totally authentic, try Kircicegi Restaurant located in the center of town.

Things to do in Marmaris
The magnificent town of Marmaris creates ample sites and activities to keep all types of travelers content during their stay. First of all, it serves as a fantastic point for starting a tour around the wonderful neighboring areas like Icmeler, Turunc, Dalyan, and many more. Here, many inexpensive and budget-friendly boat excursions will take you around the bay for a full day of adventure. In these trips, you can see the amazing mountainous shoreline, turquoise coves, ruins of ancient cities, and a cave that exits into the sea. Many travelers prefer the longer blue cruise tours and this area is great for jumping onto the Marmaris to Fethiye cabin cruise or even hiring a private charter to voyage into the Greek Islands.

Also in this area are the jeep safari tours around the surrounding mountainsides and villages allowing you to see the captivating countryside, sparkling waterfalls, and gold, sandy beaches. Jeep Safari is a full-day tour and is recommended for those adventurous at heart. We promise you won't come back without a smile on your face.

The Marmaris Grand Bazaar offers a charming shopping environment with the hustle and bustle of tourists, and sellers bargaining for a variety of items from carpets to handbags. The bazaar is an enclosed area making it a bit of an escape for those warmer days.

One of the most fascinating locations in Marmaris is the hilltop castle that was built in 1522. It was the gathering place for "Suleyman the Magnificent's army of 200,000 men. The charming castle also houses the Marmaris Museum which proudly exhibits amphorae, figurines, statues, tombstones, oil lamps, and many other artifacts. The view of the city and marina from the castle is quite breathtaking.

Another top-notch attraction in Marmaris is the Turkish bath named "Suleymaniye Hamami". It is one of the oldest and most renowned baths in Turkey. It offers a traditional Turkish bath with body peel, sauna, foam massages, and oil massages.

The nightlife of Marmaris is definitely worth a mention too. It has an entire street devoted to dancing, drinking, and singing and caters to all age groups from families to young adults who want to dance until the sun rises. You will be able to see classical belly dancers listen to Turkish music or the latest rock band filling the streets with a fun-filled and vibrant atmosphere.

Marmaris is well worth a stopover while visiting Turkey and many visiting this region will also visit destinations including Datca, Fethiye, or even Rhodes.