EKINCIK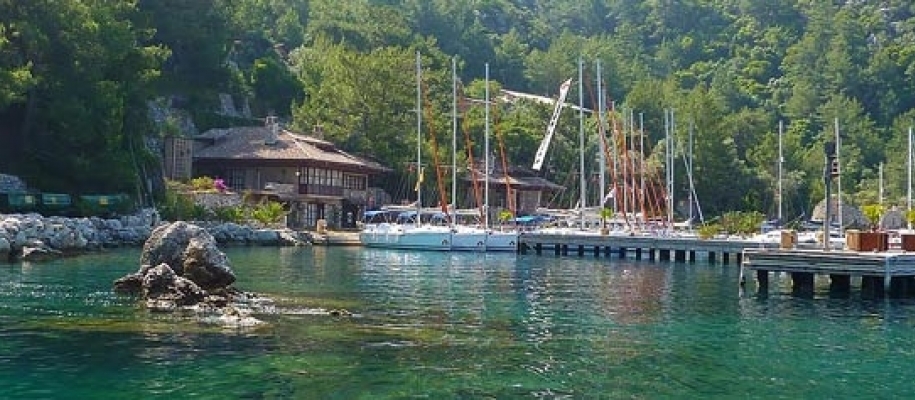 About Ekincik
Located between Marmaris and Dalyan is the small coastal village of Ekincik. This coastal village is popular stopover. Should you be already cruising along the Turkish Rivera, coming or going from Marmaris. Its harbour is on the western cape of the inlet. Sheltered by lush pine forest and quite close to the ancient city of Kaunos.Possibly the most scenic way to access this village is by gullet. This village is a popular stopover during the summer period. One can see over 50 yacht boats anchored here to enjoy the mountain beach scene. However, don't be fooled by its popularity. As this area is still a relatively secluded bay in spite of it's summer peak season. Visited by celebrities over the years such as Pamela Anderson, Sting, Dustin Hoffman and even Prince Charles!

Things to do in Ekincik
Ekincik is a small village but there are quite a few activities to be done here, mainly enjoying it's tan-coloured sandy beach. You will find a decent cluster of beachfront hotels of which all offer sweeping sea views. Beaching camping is also available but only in designated areas. The tawny-sand beach has a wild backdrop of lush pine trees, which conceal mysterious caverns just waiting to be explored. An exhilarating trekking and/or caving experience on the mountains that is easily reinvigorated by swimming on the tranquil beach. For more swimming places one can go the smaller neighbouring bays of Karacay and Semisce. While to the east there is Delikliburun, which is also known for being a great diving spot. Snorkelling and scuba diving is also available at Maden Iskelesi, on the eastern end of the beach near a system of underwater caves.For something a bit more laid back is to take two to three hour walk on a faded preserved trail to the village of Candir. Enjoy the picturesque sea views but don't loose your attention too much from the trail otherwise you might have some trouble retracing your steps. Either way you can always find a co-op boatman to guide you to the village instead.In the surrounding area of Ekincik one can visit Iztuzu beach or Turtle beach. Known as turle beach because it is one of the Mediterranean nesting sites for loggerhead turtles. During the daytime the beach is open to the public while in the evenings and during the period of May to September it is closed. At the southern end of the beach is a turtle research, rescue & rehabilitation centre. For those wanting a rejuvenating experience, try the mud baths at Sultaniye Kaplicalari, which is believed to have healing powers and tones the skin.

How to get to Ekincik
Ekincik can be accessed by road and sea. By road one can arrive by any of the daily minibuses from Koycegiz but by sea either own your own yacht or the motorboat co-op.Within the area one can take a short cruise to Dalyan to visit the turtle nesting area, or to the posh holiday resorts in Icmeler and the double horseshoe shaped Kumlubuk Bay.