BODRUM TO FETHIYE CABIN CHARTERS
Bodrum To Fethiye Cabin Charters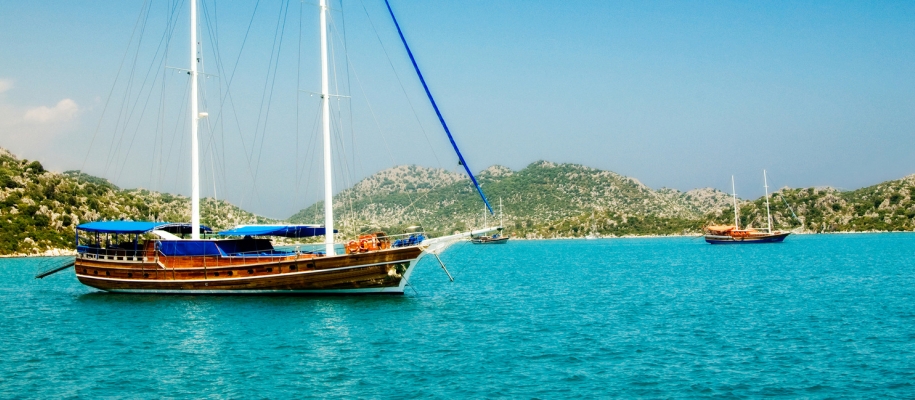 Overview
Itinerary
Gallery
Details
Enquire
Departing Days :

Saturday




Length :

8 Days 7 Nights

Yacht Class :

Classic

Departs from :

Bodrum

Meals :

Full board standard menu

Drinks :

Excluded

Shared cabins:

Available

Location :

Turkey

Places Visited :
This fantastic cruise offers an amazing time heading from the quiet harbour town on an 8 Day and 7-night cruise to the port town of Fethiye. Start your cruise in the town of Bodrum where you will board the cruise with your crew and passengers, following this you will cruise to the Black islands. The next destination is the quiet Palamutbuku to relax at before heading to Datca the next day. Datca a town of modern and ancient buildings make for a great time, with an overnight in the nearby bay. Marmaris welcomes you to explore its city streets and enjoy the nighttime entertainments. Leaving the busy city of Marmaris will see you heading to Ekincik and Dalyan. Finish up in the Port town of Fethiye. Please note: This cruise is designed for age groups of 18-39. Other cruises are available for age groups outside this age range.
Bodrum to Fethiye Cabin charters rates x
Travel Period
EUR
TRY
USD
AUD
GBP

1 May 2021

-

30 September 2021

€ 699
₺ 14371
$ 762
AUD 1062
£ 615
Bodrum to Fethiye Cabin charters hot deals
| | | | | | |
| --- | --- | --- | --- | --- | --- |
| Dates Available | Pax 1 - 5 | Pax 6 - 1 | Pax 11 - 16 | Pax 17 + | Expires |
Details
Please find more details and information on your cabin charter below.

YACHT INFORMATION
- A standard gulet is provided for this cabin charter. Some may be equipped with air conditioning, however, this cruise is None-AC cruise.
- Yachts are determined on your arrival. Gulet cannot be predetermined or guaranteed at the time of booking.
- All our yachts have yacht insurance.

We advise all travellers to take out their own individual travel insurance.

INCLUSIONS & EXCLUSIONS
- Drinking water is included on this cruise.
- Meals are included for the duration of your cruise. This includes breakfast, lunch, dinner, afternoon tea and snacks. Drinks are not provided in your cabin charter package. On this cabin charter, you cant not bring your own drinks. All drinks are sold onboard. A bar tab is set up for the duration of the week. All bar tabs are paid on the conclusion of your cruise by cash only.
- Port and marina fees, taxes and fuel are all included in your cabin charter package price.
- Linen is provided on this cabin charter.
Please note that you must bring along your own bath/beach towel. No towels are provided.
- Entrance fees and optional activities are not included in the cabin charter package price (Water sports, Dalyan tour, Land transfers etc).

ACCOMMODATION
- All cabins have private bathrooms & and shower.
- Allocation of cabins is done on-site. All gulets and cabin layouts are different, cabins are not predetermined.
- On these cruises, you may be roomed in a twin, double, triple or quad cabin depending on your group breakdown. If you are a couple please notify beforehand & we will arrange a double private cabin for couples. Individuals are all shared in a twin, triple room mix gender (we will always try to match same-gender first).
- For individual travellers who do not want to be assigned with another passenger, single supplement cabins are available with extra cost. All cabins have private bathrooms with toilet and shower

RESTRICTIONS
- This cruise is only allowed for ages between 18 to 39.
- Bringing your own drinks is not allowed on this cruise.
- Your cabin charter is a non-guided tour. There is no local guide on board providing information on the sites and locations.
- All efforts will be made to follow this itinerary, however, in cases of poor weather and/or sea conditions, this schedule may change. This could include altered daily plans and overnight stops. In these situations all efforts will be made to consult customers on alternative options, no money will be refunded.

MEETING POINTS
Departing from Fethiye: There are no Hotel pick-ups available. You will need to meet in Our Office at 14.00 PM. Fethiye Meeting Point: please visit for our office location details https://www.faroutcruises.com/contact
Departing from Bodrum: There are no Hotel pick-ups available. You will need to meet in at Meeting point below at 14.00 PM
Bodrum Meeting point: is Kumbahce Café (Kumbahce Belediye Café), which is located at Halikarnas Iskele (Halikarnas port). Website: http://www.bodrumbelediyeas.com.tr/kumbahce-kafeterya.html

Google map: https://www.google.com/maps/place/Kumbah%C3%A7e+Belediye+Kafe/@37.0304363,27.4377118,19.04z/data=!4m8!1m2!2m1!1skumbah%C3%A7e+cafe,+bodrum!3m4!1s0x0:0x751910d4ff28eee2!8m2!3d37.0303343!4d27.4382063
DAY 1
Bodrum to Black Islands
Welcome on board, you check-in at 4 pm where you will receive a welcome time where you will meet your fellow passengers and crew. After settling in you will shortly leave for a local beauty destination called Karaada - Black Island. This will be your first stop to enjoy time swimming in the Mediterranean, after time swimming and relaxing you will spend the night here to enjoy your first sunset on board. Overnight at Black Island.


DAY 2
Black Islands to Palamutbuku
Today you will begin with a journey to Cnidus. The ancient city offers an amazing time viewing the ancient ruins, still, under excavation, it has more to offer, with the ancient harbours still standing today. After exploring you will cruise to Palamutbuku, where you will enjoy the beautiful waters and have time to relax after walking in the ruins of Cnidus.Overnight at Palamutbuk.


DAY 3
Palamutuku Bay to Datca
This morning you will depart the clear waters of Palamutbuku and cruise to the town of Datca. After anchoring at this ancient town, you will have free time to explore at your own pace, here. you can visit ancient buildings of the settlement before heading to the modern town. Modern Datca offers an amazing time to shop for handmade items, enjoy traditional foods and drinks or simply enjoy a refreshing drink them with a view before heading back to the gulet to spend the night at a local quiet bay.


DAY 4
Serce or Bozkkale destinaaton
Today you will be pure relaxation and fun. Get your favourite book, a cold drink and spend the day relaxing in the sun on the deck, remember to be safe by using sunscreen. Today you will cruise the beautiful waterways of the Turkish coastline heading towards the coastal city of Marmaris. To end the day your captain will choose either Serce or Bozukkale for you to stay.


DAY 5
Marmaris
Today you will begin with travel to the city of Marmaris, once docked at the harbour you will be able to explore the city at your own pace. Try some of the shopping districts, enjoy some time walking the harbour, or try some traditional Turkish; food, drinks and treats. As the evening wears on the city goes from a flowing movement of people shopping or enjoying themselves to a busy nightlife with bars of different music and nightclubs that go to the early hours of the morning. Overnight in Marmaris.


DAY 6
Marmaris to Ekincik
This morning you will depart Marmaris to travel the beautiful, waterways until you reach the area called Ekincik. This area is amazing offers a beautiful place to relax and swim. For those who wish to visit something new, you can try a Dalyan daily excursion. If you wish to remain on board you can relax in the beautiful weather with your favourite entertainment or fill the day swimming in the crystal-clear waters.

Optional Excursion: Dalyan.
You will head to the quiet town of Dalyan, taking a local riverboat you will head out to the famous Turtle beach. As you cruise you will pass massive rock tombs. The beach at the end is famous for being the home and breeding ground for the Logger Head Turtles. Please note: This tour requires 5 people to operate. Overnight in Ekincik.


DAY 7
Ekincik to Fethiye
Today you will cruise from your nights stay to the 12 islands close to Fethiye. During your travel, you will stop at the beautiful Cleopatra Baths, where you can swim in the ancient spa centre that was designed for the Queen of Egypt. Following this is the Flat islands, one of the most beautiful in the 12 island chain where you will relax before heading to Fethiye harbour to stay. Tonight you will stay on board docked at Fethiye harbour, allowing passengers the choice to relax onboard together or head into the wonderful coastal town.

Overnight Fethiye harbour.


DAY 8
Departure
Enjoy breakfast together before departing. bid a fond farewell to your fellow passengers and crew. You will check out approximately 9:00 am.


Enquire
Please don't hesitate to email us for further assistance.