DATCA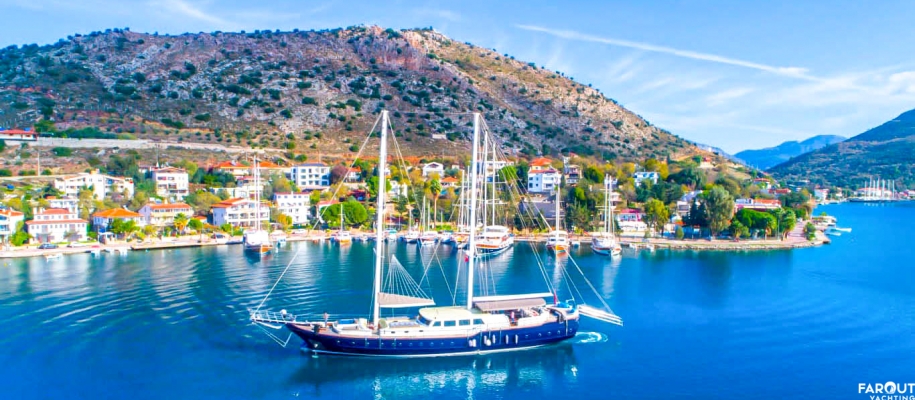 About Datca
Located in south-west Turkey, Datca and its peninsula are where the Aegean and Mediterranean seas meet. Datca is classed as a small fishing village approximately 65 kilometres from Marmaris and has just 10,000 full time residents. Datca's peninsula is made up of nine smaller villages and 52 bays along the 235km long coastline. The peninsula is lucky enough to overlook the islands of Greece including Kos, Symi and Rhodes. A short distance from Datca is Knidos harbour, a welcoming destination for the many yachts and yacht charters in the area. This harbour has been used for about 4000 years and is very much still one of the most popular destinations along this coastline. Those travelling and mooring in this harbour can walk through the remains of the ancient town and the renowned theatre. Ancient Historian, Strabos, described Knidos as the theatre rising from the seashore. The Datca area is also very famous for its almonds and fresh seafood which can be found at almost every restaurant along the coastline.

How to get to Datca
Datca is just 65km west of Marmaris, one of the main coastal towns connected to buses around other parts of Turkey. Buses from Cappadocia, Istanbul and Izmir all travel to Marmaris daily and then Datca can be reached by local bus, transfer or car. The road D400 is the only way to get to and from Datca by land from Marmaris.

The closest airports to Datca are Dalaman airport, 169km, Bodrum (Milas) airport, 200km and Rhodes Island which is a ferry to Marmaris and then a 45-minute drive down to Datca. From Bodrum, those travelling to Datca can also catch the Bodrum to Datca ferry. This ferry takes around 1 hour and 45 minutes and run every day throughout summer. Vehicles are also accepted onto this ferry.

Where To eat In Datca
Though Datca is a smaller fishing villa, it doesn't spare on restaurants, tea houses, cafes, ice cream parlours and patisseries.
The best place to find authentic Turkish food is along the main street of Datca at the many family-run restaurants. Highly recommended is Fevzi's Place just a laneway back from the main road. It is a simple fish tavern with a lovely alfresco dining area decorated with blue furniture and crisp white table cloths. The fish served here is all locally caught and served with a mix of mezes.

With a breathtaking view of the harbour, Culinarium is the perfect setting for an evening meal in the summer months. To start with try their freshly made ravioli with hot chilli butter and garlic. For mains, this restaurant serves everything from seafood to fine cuts of lamb and beef. And then to top it all off, why not try the homemade baklava and ice cream. For a slice of luxury, visit D Hotel located high in the cliffs with spectacular views. It includes five private beaches, six bars and seven restaurants to choose from. The prices are high but so is the standard of food and drink.

Things to do in Datca
The small town of Datca is located on a narrow and long peninsula and forms the boundary between the Mediterranean Sea and the Aegean Sea. The town is quite a charming tourist location and has a good number of attractions for visitors. You may begin your journey by visiting the fascinating ancient city of Knidos. It is located very close to the centre of town in the Resadiye Peninsula. Most of the ruins of this ancient city lie underwater and the rest is located by the coast. You can take a relaxing swim in the turquoise sea to see the reminiscent of the ancient city. This city used to house the naked Aphrodite which was made by the famous Praksiteles of Athens. Before the statue went missing it used to attract a lot of visitors from around the world. In the area, you will also find two grand amphitheatres which used to house gladiator battles.

Located 15 kilometres from Datca is the charming little port named Kormen. From here you can hire a boat to visit the surrounding areas. Cleopatra Bay located close to the port gives birth to some peaceful beaches full of white sands and offer some good opportunities for swimming and water sports. If it is a shopping adventure you seek then Datca will present many exquisite options. The Market of Datca is filled with day to day commodities like clothing, household linens watches fresh food and vegetables. It is one of the best places to get souvenirs for home or family and friends. While visiting the market, you may also want to visit the old parts of Datca known as the old town and appreciate the old constructions and lifestyles of the people who were the first to settle here.

The best beach in the area is located 20 kilometres west of Datca. It is known as Palamutbuku and there is a long stretch of beach for swimming and water sports but also a short walk away is a small harbour to jump on a boat cruise of the area.

Overall Datca is a destination for a relaxing breakaway, many choose to travel to Marmaris, Bodrum or Fethiye for a livelier and activity-filled holiday.