DENIZLI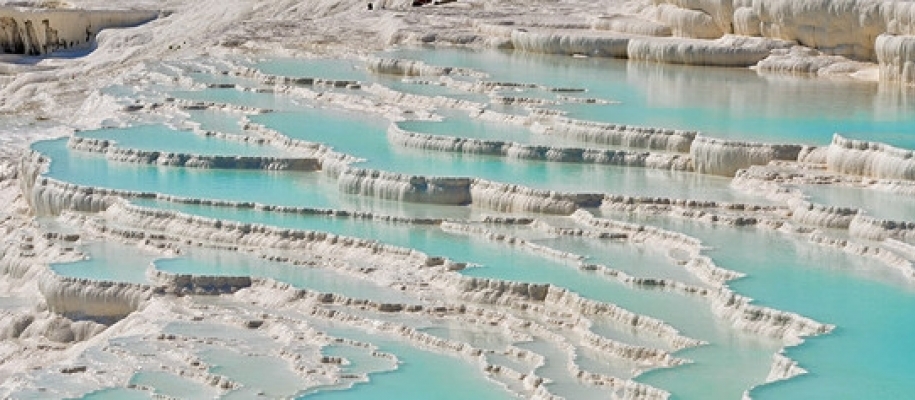 About Denizli
Denizli is a major agricultural city close to many sights and attractions in Turkey's south-western region. The biggest drawcard is the nearby travertine pools at Pamukkale, which are on many people's must-see lists for Turkey. Above the travertines sits the ancient city of Hierapolis, with ruins in good condition and beautiful gardens to relax in. Farout runs a tour from Selcuk to Fethiye via Pamukkale and the travertines and then once down in Fethiye it is the best place to sail on a blue cruise.

Close to Denizli, there are also several notable waterfalls to visit, including the beautiful Weeping Rock falls in Cal. While in Denizli check out the city's famous textiles, relax in its parks or visit the Ataturk Ethnography Museum, which is in the house where Ataturk stayed when in Denizli.

How to get to Denizli
Denizli Çardak Airport is the closest airport from the city centre of Denizli. There are many flights every day from Istanbul and this airport is also connected to other destinations including Ankara, Canakkale, Adana and Gaziantep however these are not by direct flight. There are regular bus services from Istanbul and Fethiye to get to Denizli, as well as the Farout Bus option from Fethiye.

Where to eat in Denizli
Denizli is the home of the kebab…. Well, that's what it feels like as there are countless kebab restaurants on offer in the area. Some of the best kebab restaurants in Denizli include Kebapci Baki, Kocabyalar Kebab, Kebapci Enver and Kebapci Hail. All of these restaurants serve a variety of meat dishes in all styles. There is everything from doner roll kebabs to shish dishes served with rice and salad dishes.

As most people will visit Pamukkale if visiting Denizli here is some of our top recommendations for this area too. In a hidden alley in Pamukkale is White House Restaurant. They serve up a mix of Turkish and international cuisine and take great pride in both the quality of the food and the presentation. Don't miss out on trying the homemade famous pomegranate restaurant on the salads. It's a secret recipe for a reason!

For a meal with a view, you cannot go past Konaksade Restaurant which looks out straight onto the travertines of Pamukkale. This restaurant also boasts friendly staff and food at reasonable prices. For all those pide lovers, you cannot go past Traverten Pide. This restaurant offers authentic Turkish food and real Turkish hospitality. Obviously their speciality is pide but they also have other items on the menu as well for those wanting to taste other Turkish dishes.

Things to do in Denizli
Denizli is a city wonderfully nestled by the beautiful Buyuk Menderes River and its charming hillside. The city has a few delightful resorts and hotels to provide you with decent accommodation. The hot-spring and magnificent spa resort of Pamukkale lies only 18 kilometres away from the city. Along with Pamukkale, the city of Denizli has some good attractions and activities to make your visit worthwhile.

The most appealing locations of the city are its fantastic parks. The parks are very neatly kept and can offer you a very relaxing time in what is actually quite a big town. Incilipınar Park and Çamlık Park are among the most beautiful. Next, you may check out the splendid museums of the city. The most famous of these museums is the museum of Ataturk which used to be the house of Mustafa Kemal Ataturk who was the founder of the Turkish Republic. Very close to the museum is the famous market of Denizli named Babadağlılarİşhanı. Here, you can browse for some souvenirs to collect or purchase textiles, linens and towels which Denizli is most famous for. The chaotic market is quite spectacular!

There are a few fascinating historic sites in Pamukkale. The ancient location named Hierapolis has a surprisingly well preserved ancient theatre and a necropolis. In the area, you will also find a few museums displaying ancient artefacts found in the area which are quite mind-blowing. Located close to Pamukkale are the ruins of another early settlement named Laodicea. Laodicea also has some very well preserved ancient buildings. Both of these ruins are located on the dolmuş route between Pamukkale and Denizli. You can stop by the road and take a 15-minute walk to reach the ruins. Many important excavations arranged by the Pamukkale University are always going on here which can be spectacularly amazing for the archaeology lovers. You will also find some cafes and gift shops in the area. Here in the main road which is called Syria Street, you will find a temple with glass floors which allows you to see into its basement where many excavated artefacts are neatly kept. The temple also offers a great view of the surrounding area.

Most travellers in the region tend to stay just 1 or 2 nights and then move onto their next destination. After Denizli and Pamukkale, we highly recommend visiting Fethiye, Marmaris or Izmir.