SYMI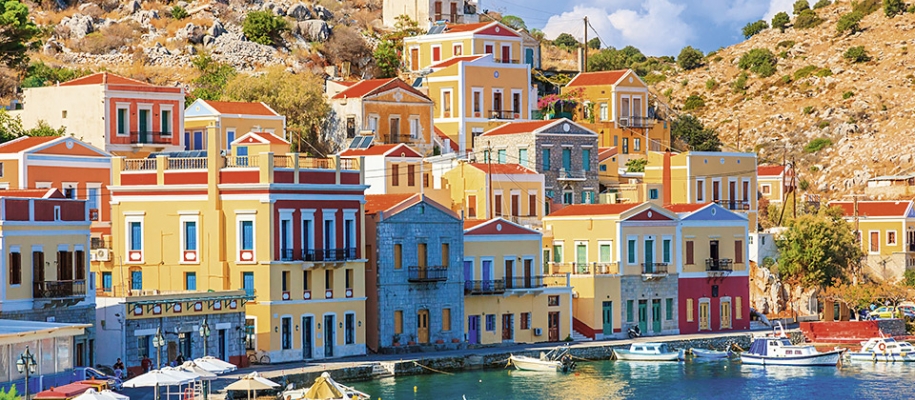 About Symi
Symi is a small, picturesque island less than an hour from Rhodes. The Greek island is a part of the Dodecanese island chain and has been noted as the most beautiful harbour in Greece. As you cruise through the water you are dwarfed by an onslaught of beautiful yellow and white houses built steeply on top of each other. The contrast of the crystal blue waters and the pale yellow homes really is a sight for sore eyes. This mountainous island has a population of just 2,500 people and is perfect for relaxing and immersing yourself in the Greek culture - it will have you sipping ouzo and eating olives as you watch the world go by. While in Symi don't miss a visit to the Monastery of the Archangel Michael (Taxiarchis Michael). Originally, it was built in the 6th century, but today it is a combination of restoration and new buildings from the 18th century.

How to get to Symi
Symi is one of the islands in Greece that can only be accessed by boat or ferry. The closest airport is Rhodes, Greece and it is possible to fly to Rhodes and then ferry across to Symi. Rhodes is also connected to Fethiye, Turkey by ferry so for those travellers coming from Turkey, one of the best ways is to ferry from Fethiye and then continue your journey on another ferry to Symi. Symi is also connected by a ferry to the island of Kos in Greece. And Kos can be reached from Bodrum, Turkey as well.

Where to eat in Symi
Symi is one of Greece's best-kept secrets with stunning scenery, friendly locals and so many good places to eat it would be impossible to visit them all in a single holiday. The first eatery to mention is To Steno, a hidden gem down a narrow laneway. The setting is rustic and food is excellent value for money. The meze options are their speciality and this is topped off with local Greek music often played live by the family members that own and run the restaurant. Another restaurant that is very well hidden in the alleyways is Meraklis. This restaurant is not only frequented by many tourists but also tables are often filled with plenty of locals too. Always a good sign in any country you visit. This is the best choice for those wanting to try Symi's famous shrimps! For a tavern with a view, Taverna Giorgio and Maria is the spot to dine with a stunning panorama over the village's ruined windmills. Unlike other restaurants, this one doesn't have a menu – you simply walk into the kitchen and point at what you want from the selection of what is cooking. For the blue and white table cloth restaurant overlooking the harbour, then don't miss To Spitiko. This spot is great for lunch or dinner and serves up delicious seafood. The staff are exceptional and super friendly too!

Things to do in Symi
The small island of Symi is a beautiful place with a fantastic harbour and picturesque villages. The splendid houses are scattered all the way from the harbour to the top of the hill where there is a charming castle of the Knights. Symi is divided into two settlements. One is Yalos where the port and harbour are located and the other is Upper Symi or Horio which is the capital of the island. You can see the best attractions of Symi in your ascent from Yalos to the upper Symi. The sight of sloping countryside filled with splendid old houses seems like a view card and can be very attractive when seen from the sea. First thing in Symi that catches the eyes is the magnificent Nos beach located close to the harbour. The beach is a very peaceful place with crystal clear turquoise water where there are hardly any waves. You will also find some charming cafes and restaurants around the beach. It is truly a heavenly place and is very suitable for relaxing after a little swim and sunbathing. The coastal area of Symi, filled with picturesque hills, is quite spectacular and a walk in the morning or evening can be very memorable. For some of these tracks and paths up the mountainside, it is advisable to have reasonable fitness as it can get quite steep at times.
But one of the most attractive sights of Symi is undoubtedly the Panormitis Monastery a must-see in the south of the island.

Symi's splendid port is named Gialos and it offers quite a few activities for the visitors to enjoy. A climb up the steps known as Kali Strata, a narrow alleyway from the port to the old town named Chorio, can be very exciting. It allows all to enjoy the old buildings with amazing courtyards. Here, most of the houses you will see are built in neoclassical style. They have fascinating stone facades attached to them and have charming balconies made of iron. It provides some decent photographing opportunities as well. As Symi is quite a small island for those that would like a bit more adventure it is worth visiting Rhodes, Fethiye or even Bodrum during your stay.