MYKONOS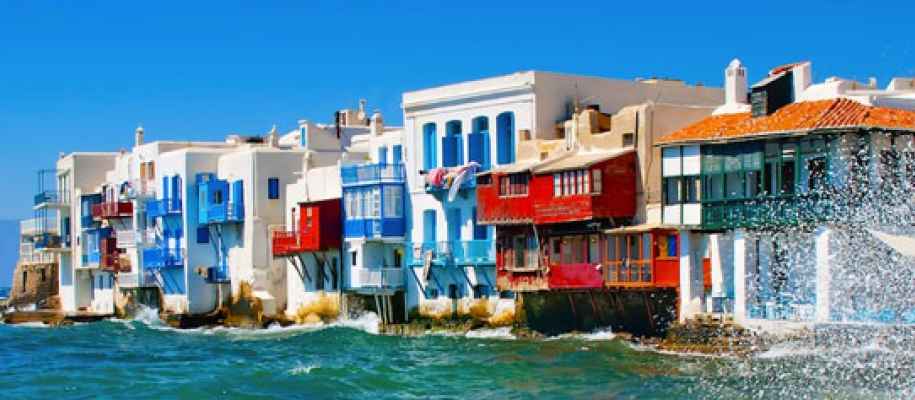 About Mykonos
When one thinks of Greece or even the Greek Islands it is very likely that Mykonos Island is one to stand out from the rest. Possibly the most visited and renowned island is just located in the middle of the Aegean Sea and part of the Cyclades Islands group. Known to most as bohemian mecca - the image of a ritzy resort, long party nights and sun-blessed days on any of the beach loungers on white beaches while facing the aquamarine sea. From cosmopolitans to hippies, this island attracts all sorts of holidaymakers especially during summer, when elusive jet setters and cruise ships bearing vacationers craving to experience this rousing destination. According to mythology, the island was formed from the petrified bodies of giants slain by Hercules and the island was named after a local hero, Mykons, who was worshipped and considered to be the grandson of the Greek God of the Sun, Apollo. But what's more, curious is that just walking around the town or more precisely by the waterfront you might cross paths with the island's official mascot, Pétros the Pelican! The original Pétros was found by a fisherman after a storm in 1954 and then became a local companion until he died. To honour, the memory of this devoted pelican the locals now have pelican successors so be sure to get your own snapshot with the island's mascot!

Things to do in Mykonos
Mykonos features a wide range of activities; boredom will not find you during your stay. From dusk till dawn there is always something going on for those that are looking to explore the island's history or enjoy the vibrant entertainment. One of the postcard-worthy areas of the island is Alefkántra or "Little Venice" with it's medieval two and three-storey houses with colourful wooden verandas making up a romantic spot to watch the sunset on the seashore. From Little Venice, you can also view The Windmills, one of the most recognized sites of Mykonos that line the coast of the island. It's also another perfect spot to watch the sunset. From there wander around the whitewashed streets, cubicle houses and the pots of bougainvillaea trees in purple bloom – you might find fine clothing or swanky Greek jewellers right in the heart of Chora. Better yet go to Panagia Paraportiani, this church is made up of four small chapels plus another on an upper storey that can be reached by an exterior staircase. If the mysteries of the deep sea tickle your fancy take some time to visit the Aegean Maritime Museum which has on display detailed models of local boats, intriguing nautical paraphernalia and a huge Fresnel lighthouse lantern.

Beach hopping in Mykonos
But if your trip to Mykonos is to connect with the sun, you can take your pick according to your beach vibe. From fully organised to more secluded Mykonos offers all types of beaches for its holidaymakers. Close to the main town is Megali Ammos and Psarou Beach. Further south is where the beach parties/nightlife concentrate, mainly at Paradise and Super Paradise with their resident international DJs. On the north side, there is Agios Sostis, which is preferred by Greek celebrities along with other more serene unorganised beaches like Agia Anna and Kapari. Even if your plan isn't to just lying on the beach Kalafátis offers surfing lessons, Eliá offers sea parachuting for adrenaline junkies, Paranga offers beach camping for those on a tighter budget. Also, most of these beaches have tavernas and restaurants with local and international cuisine but don't miss out on 'kopanistí', a pepper-infused soft cheese or the 'loúzes', a cooked pork filet with spices are among the favourite local mezes.

How to get to Mykonos
To get to Mykonos by air one can fly directly to its international airport but it can also be reached directly from other islands in the Cyclades. Greek mainland ferry services run from Piraeus and Rafina. Now if your desire is to explore the neighbouring islands you can move on by an easy boat connection Northbound to Paros Island, its charming villages and golden beaches. Or also in the northern part of the Cyclades group lies the architecturally rich Naxos Island. While to the south lies another notorious nightlife destination, Ios Island and Santorini.