ESKISEHIR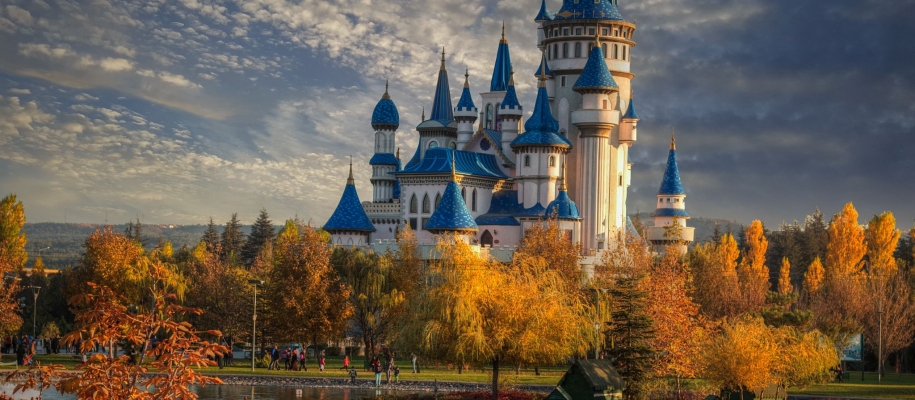 Situated a bit off the beaten path in northwestern Turkey, Eskisehir is located somewhere between the cities of Ankara and Istanbul. However, Eskisehir can be a travel destination in its own right. The proud university town boasts beautiful parks, fascinating history and delicious food.

Background and History of EskisehirEskisehir's rich history are said to date back to 3000 B.C. There's archaeological evidence suggesting that the Phrygians inhabited the area as early as 1000 B.C. Yazilikaya, a village in Eskisehir province, is full of Phrygian ruins and known as "Midas City" after the famous gold-minded Phrygian king, who was mistakenly thought to have been entombed there. Later, the city became part of the Ottoman Empire, and today Eskisehir hosts a lively community of locals, foreigners and students, with two sizeable universities in the area.

As the production site of the first Turkish automobile, Eskisehir is still a city with robust manufacturing. Eskisehir's economy today plays host to metal, aviation, rail, food, mining and ceramic industries. As the location of the largest student population in Turkey, Eskisehir enjoys an intellectual atmosphere, reasonably priced food, and vibrant nightlife. With its own barlar Sokak (bar street), visitors can enjoy drinks with tourists and local students alike.

Culture and Activities in Eskisehir
Lonely Planet has called Eskisehir Turkey's happiest city, and also it is the most loveable. Perhaps these honours are due to Eskisehir's weather: although winters are cold, summers are warm and sunny, without too much rain or humidity.
Another reason might be the plethora of activities available in the area. Eskisehir, Turkey's tourism benefits from lively neighbourhoods like Odunpazari, an artsy quarter full of old wooden houses, local crafts and museums.

Families love Sazova Park, where children can enjoy playgrounds, gardens, and even a fairytale castle and a pirate ship. Also known as the Eskisehir Science Arts and Culture Park, Sazova Park also boasts an aquarium, planetarium and zoo. Meanwhile, Kent Park, with its artificial beach and cafes, is a great place to swim, stroll, sunbathe, or take in the sights while sipping a coffee. Another way to take in the city is through a gondola ride along the Porsuk river, giving visitors a glimpse of why Eskisehir is sometimes called Turkey's Venice.

Eskisehir's Food Scene
Another reason to visit Eskisehir is to enjoy some delicious Turkish food. People love Karakedi Bozacisi for its thick boza, a traditional drink popular in southern Europe. Made of fermented grains (corn, in this case) and with a smoothie-like texture, visitors will enjoy the opportunity to taste an ancient drink that Turks have been sipping since the tenth century. The restaurant Arzu'nun Yeri provides another opportunity to sample traditional Turkish cuisine. At Arzu'nun Yeri, diners can sample manti, the special ravioli-like pasta beloved by many. Also available at the restaurant is tarhana soup, known as the first-ever "instant soup." Tarhana soup varies from kitchen to kitchen, but it is often made from a fermented grain base and complemented by tomatoes, spices, red pepper and/or yoghurt.

Hotels and Accommodations in Eskisehir
Eskisehir hotels are plentiful, with many offering amenities like wifi and a free breakfast. Accommodations like Senna City Hotel and Manzara Otel even boast views of the Porsuk River that cuts through the city. Travellers who prefer a more home-like experience can find accommodations on Airbnb, where entire apartments can be rented out for very cheap nightly rates.

Eskisehir's Transportation Accessibility
Eskisehir's distance from Istanbul is just over a 300 km drive via local highways. So travellers basing their Turkey trip out of Istanbul will be happy to learn that Eskisehir to Istanbul is just under four hours by car. High-speed rail makes the journey even shorter, with train trips between the two cities clocking in around 2.5 or three hours. Travelling from Ankara is even quicker, with train rides closer to 1.5 hours. Visitors can choose to fly into Ankara or Istanbul from elsewhere in Turkey or the world, and then connect via train to Eskisehir. Flights to Eskesehir's airport are rare, but not impossible. Though the Eskisehir airport, AOE, is very small, it still sees a couple flights to and from Ostend, Belgium each week.