EDIRNE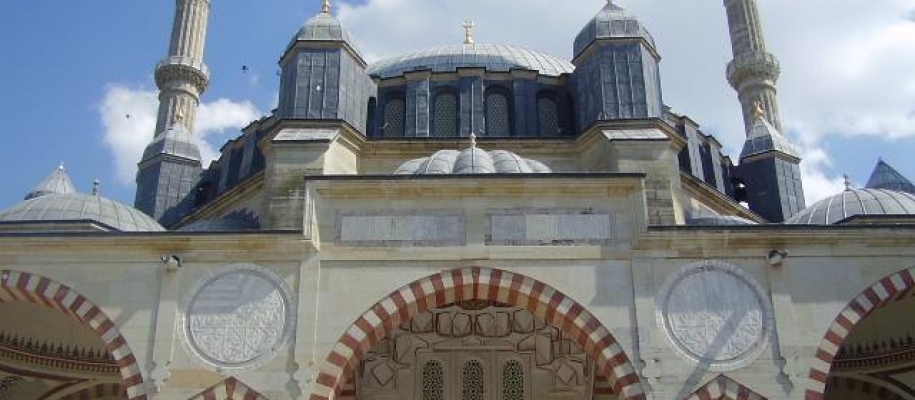 Brief History
Edirne, Turkey is at the furthest point of North-Western Turkey, perched on the border of Bulgaria and Greece. Many consider it the gateway into Turkey from the western world and it is not hard to see why. For 40 years it served as the capital of the Ottoman empire, its strategic location and significance in the rule of many ancient reigns is still evident hundreds of years later. The city has existed through the Bulgarian and Byzantine empires, survived multiple disasters back to back, including an expansive fire in 1741 and a large earthquake in 1745. Through all of this, its historic beauty has remained.

Edirne Sites & Attractions
Today, Edirne offers many attractions and sights that make it a worthwhile trip and tourist destination. The mosques originate from centuries-long passed, and they are so plentiful it's impossible to place which one is the most significant or representative of the city. Many can be seen from the skyline. To name a few, Selimiye Mosque: a breathtaking place of worship that has been given the label of a UNESCO world heritage site. The building has a museum within. The aptly named Old Mosque is the oldest of 3 sultan mosques in the city and has some incredible architecture. Üç Şerefeli Mosque, built in the 1400s, is nearly 100 years older than the more-visited Selimiye Mosque and at the time of its construction, it was the most grand mosque in all of Edirne. The craftsmanship and time put into the columns and archways in this mosque is hard to miss.

Climate
The climate in the region of Edirne is fairly tolerable. For hot weather activities, it is best to visit in July- late August. Between the months of June and September, the area rarely experiences a cloudy day, so it's more than likely to be a very clear and dry place to visit in the summer months. Perfect for outdoor activities, photos, and exploring the endless streets.

Food within Edirne
It wouldn't be a real Turkish experience without some authentic cuisine. Edirne is known for its Tava Ciger, AKA fried beef liver. This is a dish almost exclusive to the city, but incredibly tasty and popular amongst the locals. Cigerci Niyazi Usta is a centrally located restaurant that specializes in this dish. If liver isn't sounding palatable, there are countless other highly rated and frequented restaurants in the area. Many offer Tava Ciger, but only as a single menu item on a list with countless other delicious spreads.

Shopping
In comparison to the Grand Bazaar in Istanbul, the Alipaşa Bazaar in Edirne is the second largest covered market in Turkey, offering everything from clothes to handmade goods, soaps, trinkets and Turkish cloth. There are cafes and restaurants dispersed throughout, and many locals do their shopping there for produce and fresh herbs. A quick taxi or bus ride will take you to Edirne city forest, a tranquil recreational park area, where many have picnics and walks along the scenic river, Maritsa. Bazaar Bedesten is also a large market, situated in a repurposed mosque. The architecture coupled with smells of Turkish spices and coffee are sure to create an atmosphere that takes you back to ancient times.

Location
Edirne sits in a region regarded as Thrace, bordered by 3 seas on each side, the Black and Aegean Sea, as well as the Sea of Marmara. Because of this, many of the districts surrounding the city have lush vegetation and diverse wildlife. The banks of the Tunca and Meriç Rivers, which run adjacent to the city centre, are frequented by locals in the summertime and are good for small gatherings of friends.

Special Events
It is hard to mention the splendid history of Edirne and it's deep-rooted history without mentioning the annual Kirkpinar oil wrestling festival. Oil-wrestling is exactly how it sounds, wrestling opponents rub olive oil on themselves in several matches which span throughout 6 or 7 days in the month of July. The sole winner will walk away with a grand prize of about $100,000 USD. Evidently this is a serious sport in this area and throughout most of Turkey. The particular tournament has been held since 1346, but earlier evidence of this sport has been traced back to the early Olympics in Rome.

Transportation
Although flights to this region aren't as easy to snag, it is a very cheap and short bus ride away from Istanbul. The journey is about 2 hours, and many tourists and locals alike recommend a day trip. It is easy to see why many tourists from the neighbouring countries of Bulgaria and Greece make the trek to Edirne each year. Its grand history, plentiful shopping options and bazaars, good weather and dedication to upholding its own history all help it to stand apart from many others in the region.